TIME DOESN'T HEAL
WOUNDS, WE DO.
Total Ortho Express is a state-of-the-art orthopedic immediate care located in East Meadow, Syosset, Massapequa and Deer Park. It was developed out of the need for patients with orthopedic injuries to be able to access extraordinary orthopedic-specific care from highly awarded specialists and surgeons instead of waiting in an emergency room or a general urgent care. We are open 7 days a week with extended hours so that our patients have more convenient access to the care they need.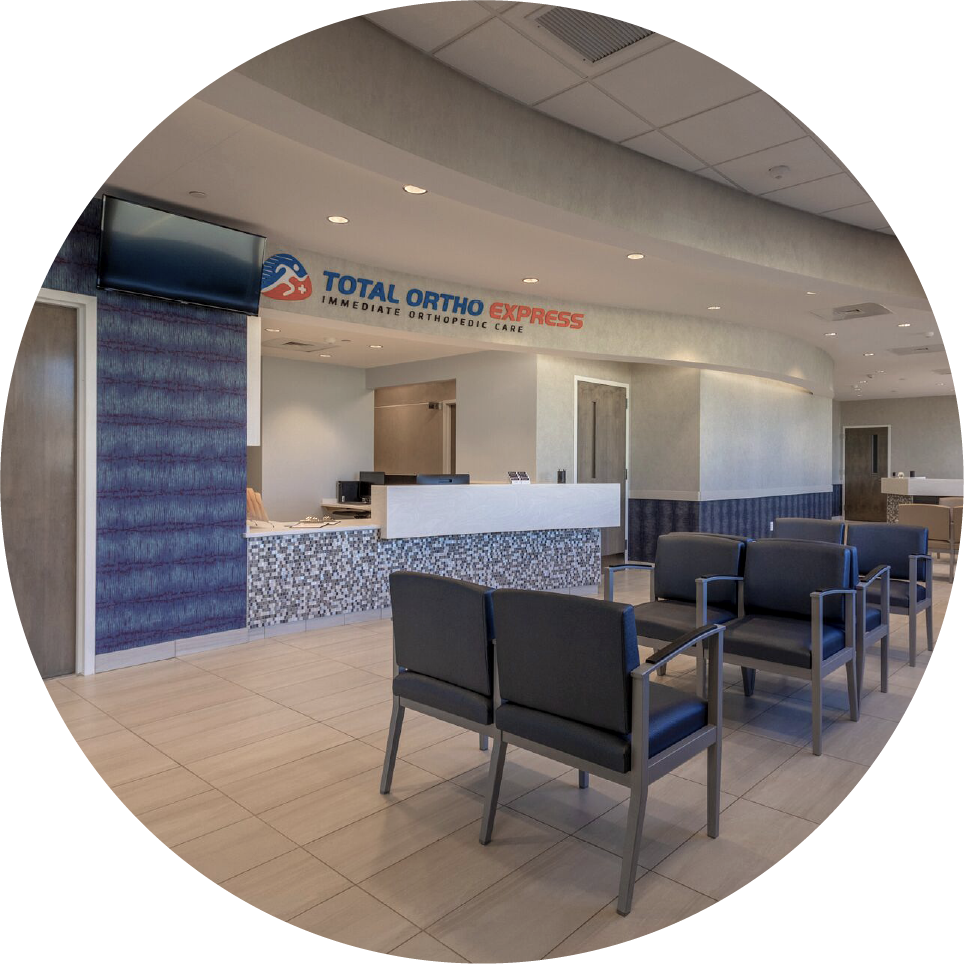 Total Orthopedics and Sports Medicine are leaders in Long Island based orthopedic care. We are experts at "Getting You Back to You" no matter what your activities or source of pain.
Total Orthopedics has partnered with HealthMark Group to ensure the accurate and timely completion of medical record requests. Click below to learn more.
"I've been going there for over 7 years and highly recommend. Just like any other specialist there's a wait but it's well worth it for the treatment you receive. My Spinal fusion by Dr. Avenasov to my daughters broken foot treated by Maria Trotta you always feel like you are their only patient!"
"My son had ACL and meniscus surgery by Dr. Ruotolo. I can't express enough what a great surgeon he is. We are so pleased and would highly recommend him to all our friends and family."
"Total Orthopedics for all your orthopedic needs. A solid full service medical group. From the tip of your finger to the top of your head. Great Doctor's and staff."
"Dr. Dante Leven is the most amazing Dr. I've met... he's so dedicated, compassionate, effective; he really takes the time to explain any concern you could have, and you can easily realize he is full in knowledge. He changed my and my husband life with that outstanding spine surgeries... highly recommended."
"Dr. Spain and his staff are not only the epitome of professionalism, but they are also extremely attentive, personable and actually exhibit care for their patients. Sadly, I've had to see several orthopedists over the years due to chronic knee and hip issues and by far, I'm the happiest with Dr. Spain! I highly recommend Total Orthopedics and Sports Medicine! Oh, and most importantly, you're called for your appointment at the scheduled time and seen within 10 minutes! How's that for a minor miracle?!"
"Excellent service! They take you right as you walk in. No waiting. Everyone is very nice and helpful. Dr. Morrison was very kind and professional. Checked everything. Super efficient. The facilities are state of the art, clean and new. Overall a great experience."
"A wonderful experience for a not so wonderful situation of my 8-year-old fracturing her wrist. the staff was warm and welcoming and made my daughter feel completely at ease! I highly recommend Total Orthopedics & Sports Medicine!"
"I would highly recommend both their on-premises orthopedic urgent care, as well as their orthopedic office doctors and staff. Dr. Owens was my physician, and I highly recommend him."
"I have been a patient for about two years I have always received great care the doctors are great and the staff is always very professional."